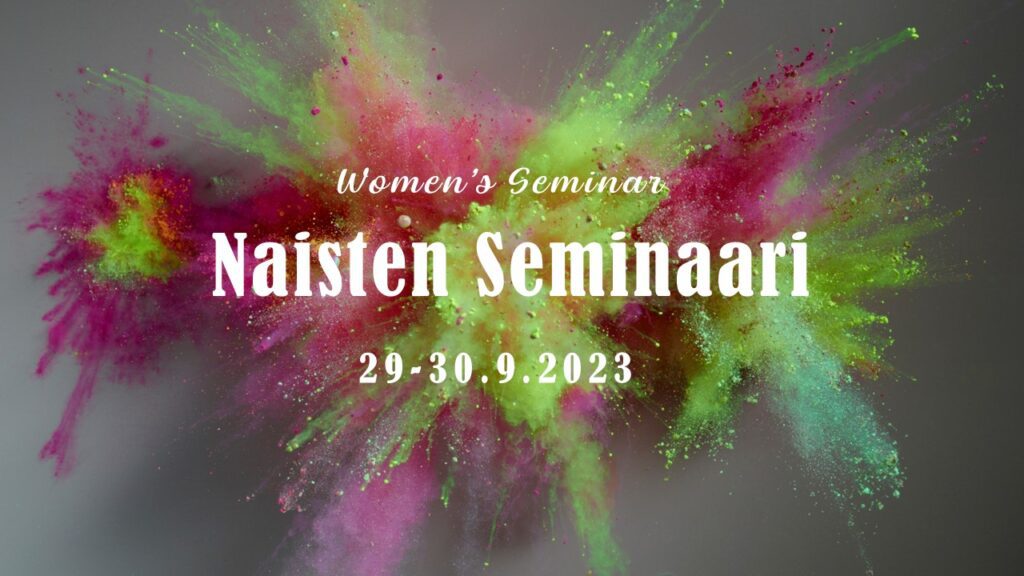 The Healing Power of God
We all get hit by the storms of life and need healing for our souls and emotions. The source of healing is always in the Word of God, the Bible. God wants us to be healed. The theme verse of the seminar is Psalm 147:3 "He heals the brokenhearted and binds up their wounds".
During this seminar we will discover what the Bible says about emotions, what is God's purpose for emotions and what is a healthy response like to life's challenges.
The main speaker of the seminar is Anna Braganza, a Finnish wife and mother of five, living in Baltimore, Maryland. Anna has a degree in Christian counselling from Luther Rice College and Seminary and lots of experience in counselling individuals and groups. In the Saturday afternoon panel the other speakers are Leena Lehtinen and Päivi Kyrö.
We warmly welcome you to the Women's Seminar!
PROGRAM
Friday
04:00 PM Registration
06:00 PM Evening service
Saturday
10:30 AM Morning service
12:00 PM Lunch
02:30 PM The Panel – Please, submit your questions with this form.
04:00 PM Afternoon coffee – Included in the seminar fee
05:00 PM Evening service
SEMINAR FEE
40€ per person, including Saturday lunch
30€ per person, without lunch
VENUE
Helsingin Raamattu Puhuu Church
Pukinmäenaukio 4 B, 3.krs., 00720 Helsinki
REGISTRATION
Registration for the Women's Seminar has ended. You are still warmly welcome to join even if you missed the registration. We have ordered the catering based on the registration list, but we will sell extra lunch tickets for those who did not register if there is food left.